CSV 060 Chipper Shredder Vacuum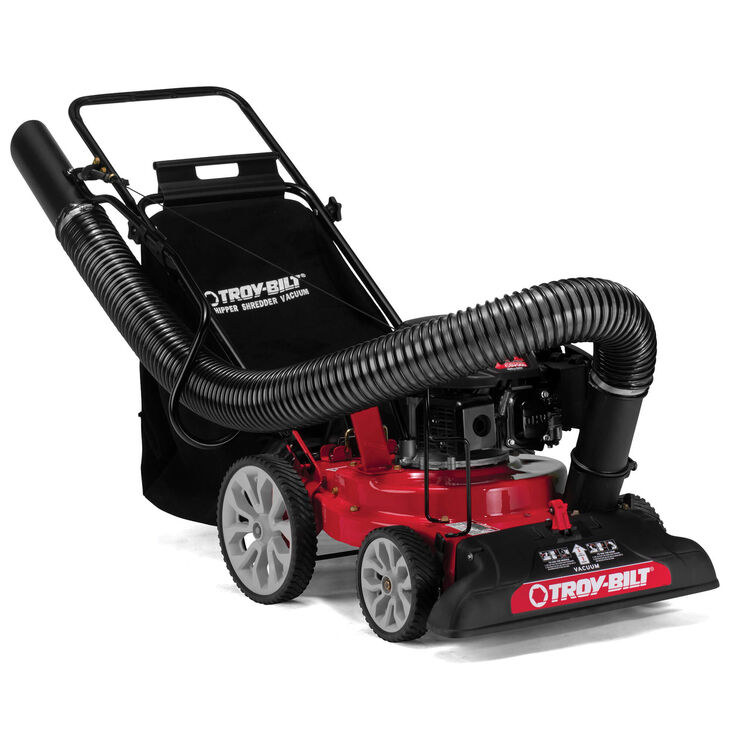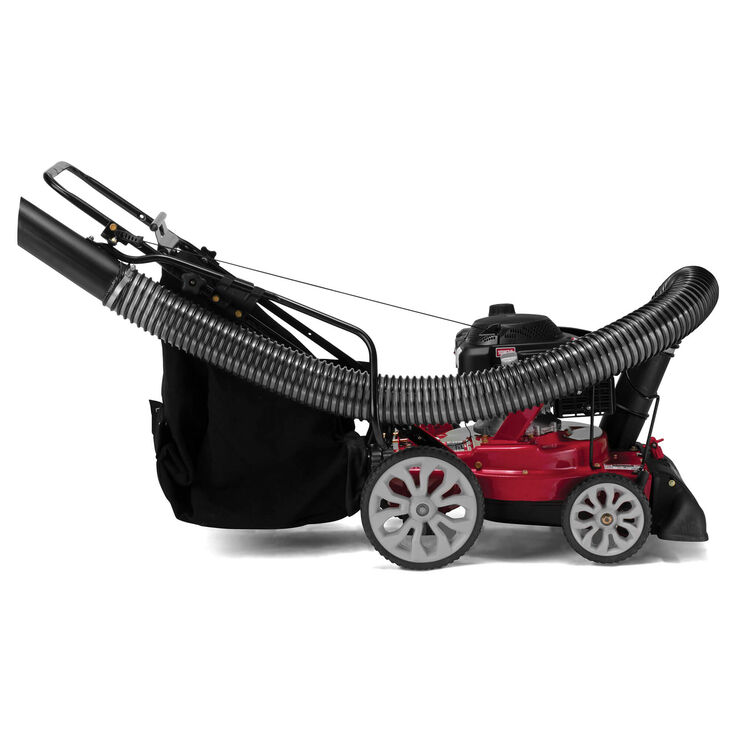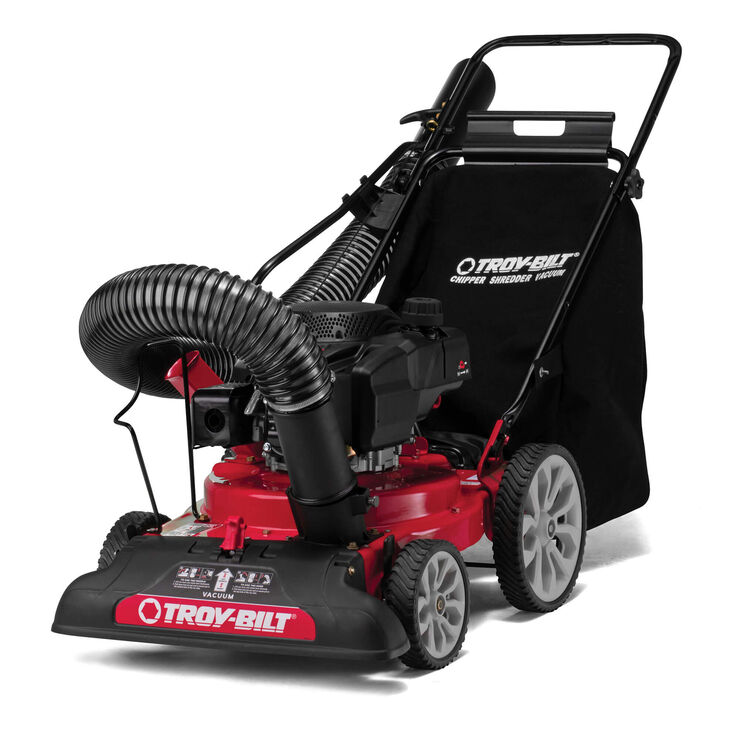 CSV 060 Chipper Shredder Vacuum
---
Or
$53/mo No interest if paid in full within 12 months2
Interest will be charged from the purchase date if the purchase balance is not paid in full at the end of the promotional period or if you make late payments. Advertised minimum payment is greater than required minimum payment.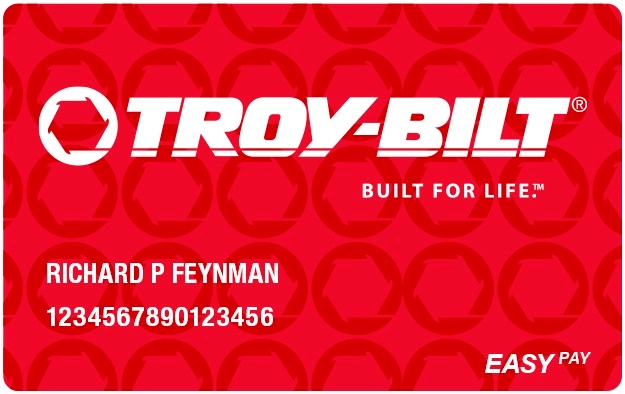 ---
Get versatile performance and quicker clean up in your yard with the Troy-Bilt CSV060 chipper shredder vaccum. High rear wheels make it easier to push in rough spots and on inclines and 7' on-board hose gets under shrubs and into tight places to better clear debris.
Powered by a reliable 159cc Troy-Bilt Autochoke engine
Combine the benefits of a chipper shredder with the convenience of a yard vacuum in one machine
Turn Eight bags of yard debris into one with 8:1 reduction ratio
24" vacuum width quickly removes leaves in the yard while the 7' on-board hose gets into tight spot and under shrubs
Dedicated chipper chute accepts branches up to 1.5" in diameter
CSV 060 Chipper Shredder Vacuum Features
Easy to Maneuver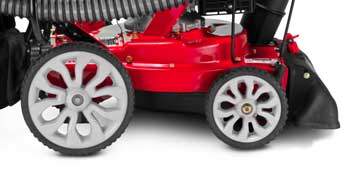 11" rear wheels make it easier to use over rough spots and on inclines
Debris Collection Bag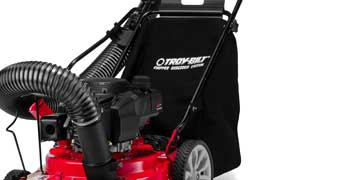 2-bushel bag collects shredded yard waste to spread in landscape beds or put into compost piles.
Pride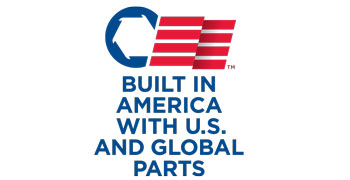 Headquarted in Valley City, OH, our reliable equipment is designed, built and tested right here in the U.S.— from Ohio and Mississippi to Tennessee and Arizona
Confidence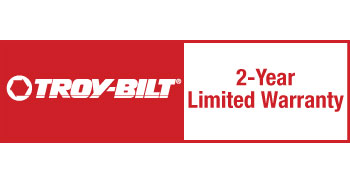 Backed with a 2-year limited warranty for peace of mind
Engine
Engine Brand

Troy-Bilt®

Engine Model

1X65CUB

Engine Displacement

159cc

Starter Type

Recoil

Fuel Tank Capacity

1.2 qt

Engine Oil Capacity

18 oz
Wheels
Tread Pattern

S-Wave

Front Wheels

8"

Rear Wheels

8"
Additional Specifications
Specifications
Drive

Push

Hose(s)

7 ft Hose

Chipping Capacity

1.5 in Dia. Branches

Chipper Blades

One Hardened Steel

Shredder Flails

Six Cast Steel Flails (Two Sets of Three)

Impeller

13.5" Cast Aluminum

Reduction Ratio

8:1

Debris Bag

2 Bushel Felt-Lined
| Model | Manual | Form Number | |
| --- | --- | --- | --- |
| 24A06MP723 | MAN:OWN:COL3X_159CC_196CC_ENG | | |
| | MAN:OWN:COL3X_159CC_196CC_ENG | 769-15770 | Download |
| | MAN:OWN:COL3X_159CC_196CC_ENG | 769-15770B | Download |
| | MAN:OWN:COL3X_159CC_196CC_ENG | 769-15770C | Download |
| | MAN:OWN:DIGEST_159_196_224CC_E | 769-25350 | Download |
| | MAN:OWN:DIGEST_159_196_224CC_E | 769-26100 | Download |
| | MANL:OPER:BILING:24A:02X 05X 0 | 769-21550 | Download |
| | MANL:OPER:BILING:24A:02X 05X 0 | 769-21550A | Download |
| | MANL:OPER:FRENCH:24A:02X 05X 0 | 769-12322_FR | Download |
| | MANL:OPER:FRENCH:24A:02X 05X 0 | 769-21550_FR | Download |
| | SHEET:SUP:BILING:EPA:CARB:EVP: | 769-15172 | Download |
| | SHEET:SUP:BILING:EPA:CARB:EVP: | 769-17170 | Download |
| | SHEET:SUP:BILING:EPA:CARB:EVP: | 769-23591 | Download |
| | SHEET:SUP:BILING:EPA:CARB:EVP: | 769-25880 | Download |
| | SHEET:SUP:BILING:EPA:CARB:EXH: | 769-15174 | Download |
| | SHEET:SUP:BILING:EPA:CARB:EXH: | 769-17172 | Download |
| | SHEET:SUP:BILING:EPA:CARB:EXH: | 769-23593 | Download |
| | SHEET:SUP:BILING:EPA:CARB:EXH: | 769-25882 | Download |
| | SHEET:SUPP:WARR/PARTS:TB CSV | 769-21670 | Download |
| | SHEET:SUPP:WARR/PARTS:TB CSV | 769-21670A | Download |
Product Reviews
Rated

4

out of

5
by
andrewpc
from
Starting Issues is a safety issue
The Vac will not start unless the bag is attached correctly for safety reasons. So, the small button on the vac where the bag inserts into the machine must be press down by the bag in order to start.
Date published: 2016-04-16
Rated

5

out of

5
by
Grandpa D
from
It does what the literature says it will do and be
I bought this machine three months ago and it has not failed me yet and I don't think it ever will. An added improvement would be a clutch to disengage the fans, choppers etc to make it easier for an 82 year old man to start the engine, however, it does start on the first pull as a rule.
Date published: 2018-10-05
Rated

4

out of

5
by
Sherlock
from
Wouldn't be without it!
Have owed this product for three years. Very pleased with performance. Two improvements would help. Starts well but compression makes starting with starter cord very difficult. Bag closure is poorly designed and bag is difficult to empty; a zipper along two edges would be superior.
Date published: 2018-10-04
Rated

4

out of

5
by
Carol
from
Quirky start, but working so far
The shredder vac does a great job once you get one that isn't broken right out of the box. We went through 3 to finally get one we could use. Opening the box of the first purchase, we found the plastic on the hose attachment smashed on both ends. One wheel was bent and rubbed the deck, and it had a flat tire. A flat on a solid molded plastic wheel takes a special kind of manufacturing mistake, and for the life of me - I don't see how it passed product inspection. It was oval shaped! We boxed it up and returned it to the place of purchase for an even exchange. Vac #2 appeared ok when opened and we decided we could live with a slightly misaligned wheel that we could probably correct. Used it once, and the engine cracked in half from the deck mount all the way up the side of the engine. There was some irony in the fact the crack happened next to the green factory inspection sticker that said "pass"! Removed the gas and hauled it back to the hardware store for a 3rd machine. The store staff worked with us to unpack the item and inspect the hose, wheels and engine mounts. Got it home and discovered that the kit did not contain a gas tank cap to replace the plastic shipping cap. Trip number four to Home Depot for a gas gap. Since then, have used the machine to mulch and blow leaves several times and it does an amazing job! The factory set throttle runs the engine on high speed and it has so much power that it blows too hard in certain areas. Used a dozen times, it has started each time on the first pull with full choke. It did not need to be choked to restart while the engine was still warm from use. So far, great machine and hopeful that it stands up over time like the 20 yr. old Craftsman that it replaced. The Home Depot customer service team were a pleasure to work with, and wished us good luck. Fingers crossed.
Date published: 2019-12-31
Rated

2

out of

5
by
Robbie K
from
Junk
I bought this thing 4yrs ago and it's always been problematic. When it works or isn't falling apart, it piocks up leaves decently. Parts are expensive. The bag is junk, the front handle broke off and now both tabs to open is are broken off. The impeller shattered a few months ago but was able to weld it up. This thing is going in the trash.
Date published: 2019-01-11
Rated

2

out of

5
by
jerseyguy
from
What a disappointment
What a disapointment. The fuel tank runs dry within one half an hour. The vacumb action is always on, both the nozzle or the hose are sucking air no matter which action you select. so the nozzle isn't working at peak performance. Had to place a plastic bag over the hose aperture to pick up yard debris. The hose is heavy duty vinyl. It is so thick that it takes both arms to twist it into working position. The hose will not swivel no matter what you do. Attempting to use the attached hose handle to direct the hose resulted in breakage of the cheap plastic connector hose where the handle is bolted on. A nice big hole and a crack all the way up to the vinyl hose! The attachment clip that is used to hold the hose on the handle actually works, but the security clip needs two hands to force into position
Date published: 2017-03-26
Rated

4

out of

5
by
Fleetcaptain
from
Great but...
I have really enjoyed the machine and done a lot of work with it but it does have a few week points. The vacuum doesn't work as well as I expected and the hose clogs easily. Fortunately, I bought it more for light chipping than leaf pick up. The first real problem I has was that the screws that secure the chipper feed tub were always vibrating loose. The performance of the chipper depends on the correct input angle so even a little looseness can be a problem. Retightening these screws every few minutes worked for a while but eventually the threads in the skirt wore out and it became impossible to tighten them properly. I solved the problem by inserting the equivalent of a metal toothpick into each of the three holes, tighting the screws and then using a gob of RTV to keep them from vibrating loose. It worked well but it is a pain if you ever need to remove the chute to clear debris. A better design would have been if there were studs that came up from the skirt so the chute could be secured with lock nuts. It would cost a little more to make but would last a lot longer. After about 30 hours of use I noticed that the machine was no longer really chipping, but was turning the sticks fed into it into long thin strips. Investigation found that the chute had deformed a little. The chute was made by inserting a box shapped tube through a flat plate and welding these pieces at the proper angle. This angle and the clearance between the chute and the chipper blade is critical. What I found was that the trailing edge of the box tubbing (a corner actually) had been deformed by the pressure of the wood being chipped repeatedly being beaten against it by the chipping blade. This increased the clearance between the chute and the chipper blade, which is why I'm getting wood spagetti rather than chips. Not only is the resulting "mulch" lousy ground cover, it has a tendancy to get wrapped around the impeller shaft, between the impeller and the skirt where you can't get to it without removing the impeller and to do that you need a special tool (just ordered). Things have bound up enough that I could no longer start the machine against the resistance created by the debris wrapped around the shaft. It would be a simple fix to beef up the chipper chute a bit so it doesn't deform so quickly and maybe that change has already been made in newer models. If so, I would sure like to get a hold of a stronger chute! I hope it doesn't sound like I do not like the machine, because nothing could be farther from the truth. It is only because I depend on it so much that these little issues become important. I'm hoping that the feedback will help the engineers come up with a better design.
Date published: 2009-07-10
Rated

4

out of

5
by
Trukin48
from
Makes yard cleanup a lot easier
I purchased this because I hate raking, and I was impressed with the Troy Built lawn mower I have. Out of the box the unit is easy to assemble and you should be up and running in about ten minutes. There is a slight tug when you pull to start it because of the chipper blades, but it's still easy to pull. I had to pull twice the first time I used it, after that, one quick pull was all it took. There is a manual choke and throttle located on the front of the engine. At full throttle it's not that noisy and very little vibration. I found it's features very easy to use. The front wheels adjust easily. The hose is secured to the side of the machine in two places. The metal handle is secured in it's own holder and easily lifts out, and the top of the hose has a small rubber joint in a metal holder. Just lift and remove. To use the hose just flip a lever on the front of the machine and you're ready to go. It also comes with an extension for further reach. The hose can also be removed completely with the push of a button, and a metal plate secures the opening for safety reasons. The rear bag is large (2 bushels) and is made of felt with a vynal lining. It has a handle on both front and back for ease of handling. It removes easily also, just pull the safety lever at the rear of the machine and slide the bag up, the opening is small so the contents won't spill out. The plastic handle on the other end is secured to the push bar, just grab it and pull up. The rear of the bag opens by undoing two clasps. It unfolds providing a large opening to remove the debris. The opening is large enough that it could be emtied while still attached to the machine because the rear flap drops down to the ground. The machine cannot be operated with the bag removed, a nice safety feature. The owners manual is concise giving detailed instructions on setup and maintainence including removal of the blades and chippers for shapening if you're so inclined. Now for the cons: The throttle is located at the front of the engine and just barely sticks out. A cable throttle on the handle bar would be nice. If you empty the contents of the bag into a large trash bag, the flap on the bag extends further making it difficult. The machine weighs 150 lbs. If you're getting older like me and have a bumpy yard you might want to opt for the self propelled unit. All in all I'm very satisfied with this machine. It starts easily and does it's job well, and it's easy to maintain. I would recommend this to anyone.
Date published: 2008-10-20
bvseo_sdk, dw_cartridge, 18.2.0, p_sdk_3.2.0
CLOUD, getReviews, 6ms
reviews, product